New WIC Food Package Would Support Health Outcomes for Pregnant and Post-Partum Individuals, Infants, and Children 
Statement attributable to Luis Guardia, President, Food Research & Action Center (FRAC)
WASHINGTON, November 17, 2022 — The Food Research & Action Center (FRAC) commends the U.S. Department of Agriculture (USDA) for today's announcement of the proposed food package for the Special Supplemental Nutrition Program for Women, Infants, and Children (WIC), which will go a long way in making this critical program even healthier, more accessible, and easier to use. 
 
The proposed WIC food package will build on the White House "National Strategy on Hunger, Nutrition, and Health" to modernize WIC by supporting the increased value of WIC's fruit and vegetable benefit, allowing additional flexibility in food package sizes, increasing accessibility to culturally relevant food options, and fastening alignment with the 2020–2025 Dietary Guidelines for Americans. 
 
This package is a step in the right direction toward increasing program participation, improving WIC participants' health outcomes, addressing health inequities, and ultimately, helping end hunger in this country.  Read more HERE
FRAC Applauds White House Conference Aimed at Ending Hunger in America
WASHINGTON, May 4, 2022 — FRAC is heartened that, after more than half a century, there will finally be a second White House Conference focused on ending hunger in America.
This milestone event in September comes as the nation grapples with the short- and long-term fallout of the public health and economic crisis created by the COVID-19 pandemic. The pandemic has only deepened America's hunger crisis while shining a light on the racial disparities that have existed for far too long in this country. We appreciate the bipartisan effort that House Rules Committee Chair Jim McGovern (D-MA) spearheaded to make this initiative a reality. It is urgent for our nation to enact effective and equitable policies that end hunger and its root causes now and for the future.
This Conference is long overdue and now is the perfect time to enact policies that reflect the lessons learned during the pandemic so we may effectively put an end to hunger, and its root causes. Read the full article HERE.
A new report, Gap Report, was recently released by the Low-Income Housing Coalition
The report highlights the shortage of affordable and available homes across the nation for families and individuals with modest incomes. Two out of every three economically modest households in Idaho are likely paying more than they can afford for a rental home.
Idaho continues to experience a shortage of affordable and available homes for Idahoans with modest incomes. The report finds that Idaho has 42 affordable and available rental homes for every 100 households with extremely low incomes. Facing a shortage in Idaho of over 24,000 affordable and available rental homes for renters earning this income, two out of three of these renters are severely housing cost-burdened. Read more HERE
You thought Ada County's housing affordability was bad? Canyon's is worse
Rick Sharga calls it "the Boise effect." After home prices in Ada County shot up in 2021, prices in neighboring Canyon County have followed. And wages haven't kept up. In the first three months of this year, Canyon County tied for second for the "worst affordability indexes" among counties nationwide, according to a new report from ATTOM Data Solutions, a provider of real estate and property data. Sharga is ATTOM's executive vice president of market intelligence. The ranking weighs wages and monthly homeownership expenses. "It's simply math. Home prices have gone up much, much faster in Idaho in general and in Canyon County, in particular, than wages have," Sharga said by phone. "… It's just been a real burden on affordability across the country, and particularly in markets like yours."
Read more at: https://www.idahostatesman.com/news/local/community/canyon-county/article260219575.html#storylink=cpy
A Snapshot of Idaho's Rapidly Growing Cost of Living
Six months ago, the Idaho Center for Fiscal Policy published a look at Idaho's rising cost of living and what it means for families of modest incomes. In that piece – which is available here – we examined the cost of basic necessities, such as gas and housing. The six months since that piece's publication were eventful and complex. In this piece, we again take a look at what it costs Idaho families to meet some of their most basic needs and how those costs recently changed.
Even in the midst of record-low unemployment and a strong economy, Idahoans are increasingly concerned about making ends meet. Pandemic-related inflation and war in Ukraine coupled with rising costs caused by Idaho's rapidly growing population has impacted everyone. Daily household budgets are feeling the pinch from the grocery aisles to the gas pump to the cost of renting and owning a home. Basic living expenses are becoming increasingly unaffordable, particularly for low and moderate income Idahoans. From the national perspective, Idahoans' experiences are similar to what other states have seen.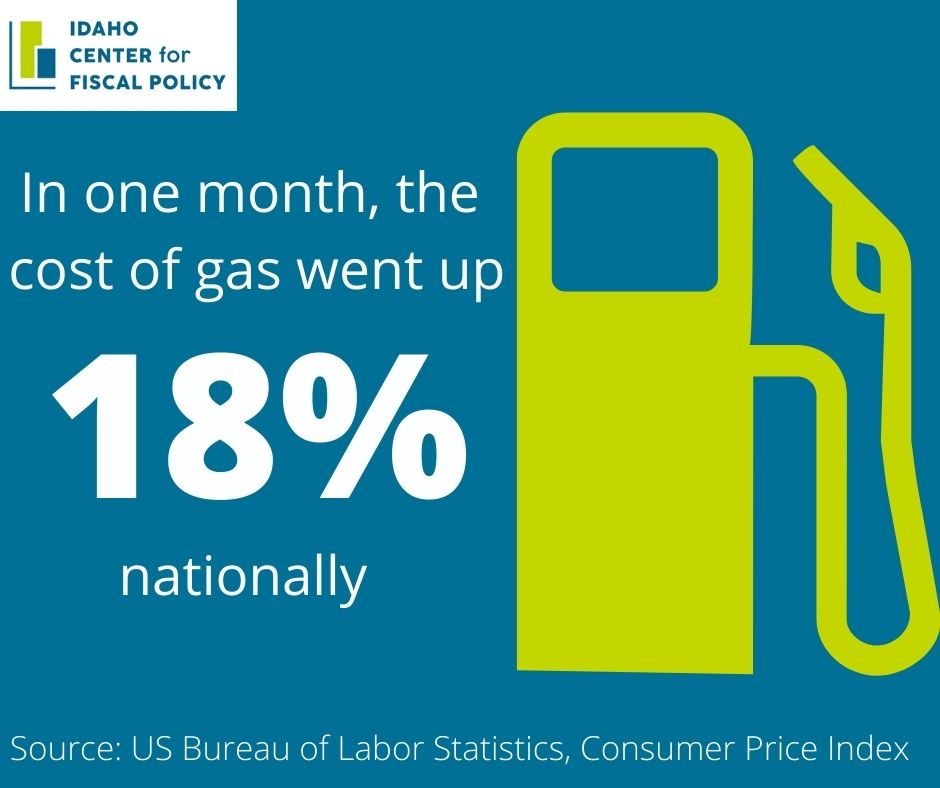 Idaho policy makers can help address rising costs by enacting a Working Families Tax Credit. This credit would put money in the hands of working Idahoans who need it the most and it would support our economy as recipients spend the credit at local businesses. Read the full report HERE.
Get Your Remaining Child Tax Credit
Families can still receive the second half of their child tax credit payment, but to get it, they must file their tax return in 2022 for the previous year.
President Biden signed the American Rescue Plan which expanded the Child Tax Credit, giving $3,000-$3,600 per child for nearly all working families. Many families received about ½ of their Child Tax Credit in monthly payments in 2021. To get the rest of the Child TaxCredit you are owed, you must file taxes this year!!
Check out https://www.childtaxcredit.gov/ to learn more and for free filing assistance.
Find out if you qualify: https://www.childtaxcredit.gov/eligibility/
An Idaho working families tax credit would target those in need and boost the economy
BY ESTEFANIA MONDRAGON JANUARY 24, 2022 – Published in Idaho Statesman
Familia (family) is at the heart of Mexican and many Latin American cultures; it is also at the center of our shared Idaho values. Our families help us through difficult times financially and emotionally. Idaho families are raising our state's future leaders, and we as Idahoans have a real stake in their well-being. Estefania Mondragon A tax cut bill that's making its way through the Idaho Legislature would give most Idahoans only a one-time rebate of $75 per person, or $300 for a family of four, according to the Idaho Press. Many Idahoans would not get the bigger benefits in the bill because those benefits are only for corporations and the very wealthy. But when it comes to tax relief this year, leaders can — and should — do more to let thousands of Idaho families who work hard but earn modestly keep more of what they earn.
The cost of living in Idaho shows no sign of slowing down. It is harder for working Idaho families to find and remain in homes, put food on the table and pay for needed medical expenses. These costs fall heavily on lower-income Idaho families. Idaho families of color face added barriers because a long history of job and income discrimination mean they earn less for the same work. This is why it is so important for Idaho lawmakers to pass a permanent credit for the large group of Idahoans who are working hard to get ahead but right now earn modest wages.
It's called an Idaho Working Families Tax Credit. The credit, based on work, would help our Idaho families who need it most offset the sales tax they pay and hold onto more of their hard-earned dollars. That credit would make a difference for working families. Consider Teresa Garcilazo, who works as a certified nursing assistant in Mountain Home. She just recently had twins, meaning she and her fiancé now have four children and continue to face high costs of living. An extra few hundred dollars a year would make a difference for her family, she said. Across virtually every community in Idaho, the credit would benefit 332,200 Idahoans, including children. Idahoans would spend the money locally on things like groceries, car repairs or other needed services. This spurs the local economy and helps small businesses thrive. Not only that, the credit would help keep working parents in the workplace, because they would have more money for child care. An Idaho Working Families Tax Credit isn't just an investment in our Idaho families and our future generations — it's also an investment in our local economy. While an Idaho Working Families Tax Credit would benefit hundreds of thousands of Idahoans who need it most, it need not be costly to our state. And we have the extra revenue to do it.
Our Idaho families are there for us in times of hardship. It's time we, as a state, are there for them. Estefania Mondragon is a daughter of immigrant parents from Tarandacuao, Guanajuato, Mexico, and she is the executive director of PODER of Idaho. She brings awareness, both of her languages, heart and imagination to her work. She wholeheartedly believes that change starts from the inside out and is passionate about building power within the intersections. She hopes to raise community consciousness, shift culture and bringing an anti-oppression lens to the conversation.
COVID-19 Mortgage Payment Assistance
Are you struggling to pay your mortgage? Has COVID-19 financially impacted your household?
NeighborWorks® Boise is here to help. We know this pandemic has had devastating financial effects for many. Through partnerships with the City of Boise and the City of Meridian, you may qualify for up to 15 months of previous mortgage payments and six upcoming months. Our team can answer your questions and see if this program is a good fit for you.
To qualify for these COVID-19 related Mortgage Payment Assistance programs, you must:
Live within the municipal boundaries of Boise or Meridian
Be facing financial hardship due to COVID-19
Be income-eligible (under 80% Area Median Income) based on the annual gross income of all persons in the household earning, who are over the age of 18 (regardless of whether they contribute towards the mortgage or not)
Understand that if you have a City of Boise or NeighborWorks® mortgage, this assistance can not be used to pay those mortgages
Understand that this is a one-time assistance
Understand funding is only for single-family households with your primary residence
Understand that any misrepresentation of information provided may result in the disqualification of assistance and you may be required to pay NeighborWorks®.
More information HERE
Funds are provided by the U.S. Department of Housing and Urban Development through the Community Development Block Grant (CDBG) CARES program.
USDA Modernizes the Thrifty Food Plan, Updates SNAP BenefitsFirst Update in More Than 45 Years Reflects Current Cost Realities
The USDA recently announced a more than 25% increase to SNAP benefits. With the recently updated Thrifty Food Plan, which is used to calculate SNAP benefits based on realistic costs of healthy diet, the new maximum benefit for a family of four will increase to $835 a month. This historic, permanent increase will take effect on October 1st. You can see the official announcement here – https://www.fns.usda.gov/news-item/usda-0179.21 – and the report with maximum benefit amounts based on household size.
How to apply
Gather your information:
Complete a simple application:
Important note: The Housing Preservation Program has a new portal for online applications. Applicants and landlords need to register and complete their portion of the application using the new portal. Some of the features of the new portal include the ability to attach documentation, revisit your application to provide additional documentation, check on your application status, and follow along with the progress of the application through the entire process. Additionally, a representative of the tenant's choosing may complete and submit an application on the tenant's behalf, but the tenant will need to provide the representative with the necessary information and documentation.
Help spread the word
If tenants need rental assistance or support they can contact the following agencies: